This blog is part of a series organized by The Huffington Post and the NGO alliance InterAction around the London 2012 Olympics.
What could the era of big data mean for girls and sports around the world?
With the 2012 London Olympics underway, for the first time all participating countries are fielding both female and male athletes. While this represents progress in the Olympic arena, this news prompts broader questions about girls' access to sports around the world. In the United States, girls' participation in sports has taken off in clear and quantifiable ways since Title IX, and the physical and health benefits are well documented and widely accepted. What about girls and women in the developing world? What is their level of access and participation? What is the impact of sports on girls, their communities, and societies?
We still don't know much. The data gap on girls and sports in the developing world reflects a much larger gender data gap that is drawing new international attention. At a recent event, World Bank President Jim Kim announced the launch of a new Gender Data Portal and U.S. Secretary of State Hillary Clinton introduced Data 2X, a partnership to improve methods for collecting data on women and girls.
Secretary Clinton characterized the problem:
For too many countries, we lack reliable and regular data on even the basic facts about the lives of women and girls - facts like when they have their first child, how many hours of paid and unpaid work they do, whether they own the land they farm. And since women make up half the population, that's like having a black hole at the center of our data-driven universe.
When it comes to the benefits of girls' participation in sports, we are not in the dark, however. Researchers at the Population Council have pioneered studies on the role of sports in the lives of girls in the developing world. From Guatemala to Zambia, sports are having a meaningful impact on girls, well beyond the proven physical and health benefits. The evidence suggests that through well-designed sports programs, girls can develop new skills, practice being leaders, expand their networks, challenge stereotypes, and transform how they view themselves.
With the growing spotlight on the gender data gap, what role can technology play? Today, nearly 5 billion citizens in the developing world have access to mo..., enabling new opportunities to engage large numbers of people at low cost. UNICEF Uganda has pioneered an approach that uses text messaging as a way to give young Ugandans a voice. At present, 130,000 Ugandans volunteer to field weekly survey questions through U-report. The demographic and geographic spread of these "U-reporters" is noteworthy: 51 percent are female; 16 percent are under age 18; and all 110 districts are represented. Tapping into U-reporters is like taking the pulse of citizens on the ground.
In the quest to track down current information on girls' participation in sports at the subnational level, U-report is a good starting point. On July 23, 2012, U-report asked volunteers in English and Luo (a local language):
"Do you know any girls in your district that play sports? If YES, which sports do they play? If NO, let us know why they do not play sports."
Within 48 hours, 14,692 people had weighed in, with preliminary results indicating the following:
· 77 percent of respondents reported that they knew of girls in their district who played sports
· The most popular sports mentioned in free text responses were: football (soccer) 27 percent; netball (27 percent); athletics (20 percent); volleyball (13 percent); basketball (7 percent); and other (6 percent)
· Lack of athletic facilities, equipment and funding were reported widely across all districts, as well as a lack of mentorship and gender stereotypes
The map features an inset of Kibuku District, which scored amongst the highest percentages of "NO" responses (40 percent) to the question of girls' participation in sports. The sampling of text responses from Kibuku points to a series of obstacles to girls' participation in sports.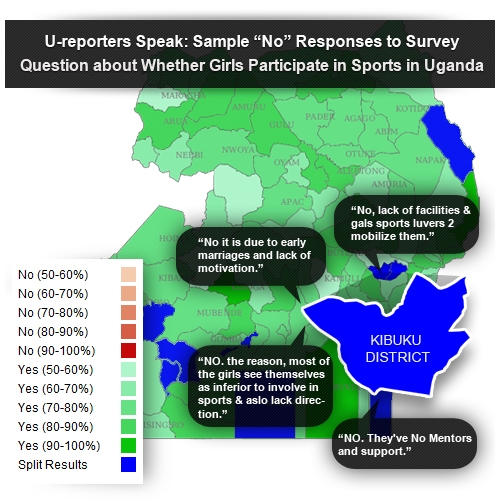 This approach is no replacement for statistically rigorous data collection, but it can provide us with an important "layer" of new data. The potential to hear the voices of citizens in real-time provides a crucial new dimension to our knowledge and understanding of conditions, needs, behaviors, and attitudes on the ground. Capturing feedback at the district or village level--instead of nationally--facilitates better targeting of development efforts to areas of greatest need. Mapping for Results, a partnership of the World Bank Institute and Aid Data, successfully demonstrated that geocoding and visualizing development projects at the local level is feasible and can provide a foundation for the type of bottom-up feedback that U-report captures.
As momentum gathers to address the gender data gap, technology can play an important role in giving voice to those who were previously off the map and on the sidelines.
Resource: Choi, Nancy Mcguire. The Huffington Post. Off the Sidelines and Onto the Field: New Opportunities to Learn About Girls' Participation in Sports. http://www.huffingtonpost.com/nancy-mcguire-choi/off-the-sidelines-.... August 2, 2012.